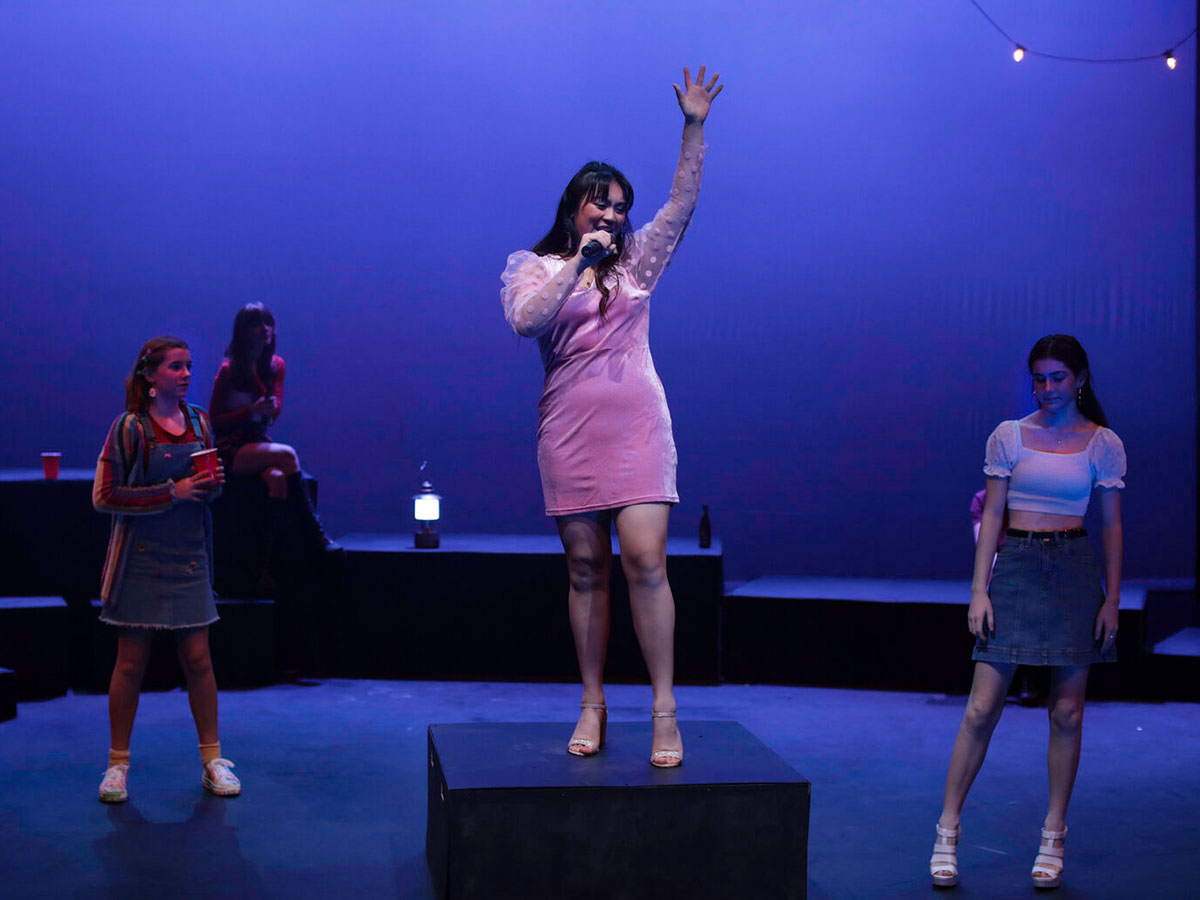 Photograph: Tracey Schramm
A talented student from Catholic Education Diocese of Parramatta's CAPTIVATE creative and performing arts program recently made her on-stage debut in an Australian Theatre for Young People (ATYP) production at The Joan Sutherland Performing Arts Centre in Penrith.
Year 11 Nagle College Blacktown student Denica Brillo starred in Lights in the Park, a powerful story about a group of teenagers dealing with past hurts and grudges who converge at an emotionally-charged local park party during a blackout.
"Lights in the Park delved into themes and ideas of death, loss, grief, friendship, bullying and social constructs with each character evoking contemporary and raw depictions of such," Denica said
Denica played 'Ash', a viral singing sensation recovering from the embarrassment of releasing a bad pop song online and dealing with the subsequent nasty trolling.
"Being selected to play Ash in this remarkable, eye-opening play most definitely gave me the support and confidence to not make it my first and last ever audition," Denica said.
"When I was contacted with the offer to play Ash, I was ecstatic! Never would I have thought that with so little experience in acting that I could have possibly been chosen."
Prior to taking to the stage for six live performances, Denica participated in two to three rehearsals a week as well as a table read, costume ideas discussions and script analysis - a lot of hard work that created an unbreakable bond among the cast.
"Ultimately, everyone part of the Lights in the Park team all truly become a close knit family, allowing each other to fall and make mistakes, helping each other up by providing feedback and, most importantly, learning and growing together," Denica said
Her powerful and confident performance culminated in a live vocal rendition of Ash's song in the final scenes.
Sydney theatre and film reviewer Reviews by Judith praised Denica's performance, writing:
"As Ash (Denica Brillo) is all-about-me and dominating… It takes real acting courage to be as confident as Ash is and Brillo never loses sight of her character's egotism. And her frustration. But with a very nice redemption arc negotiated with a touching emotional growth."
Denica is a member of the CAPTIVATE Drama Ensemble and took part in ATYP workshops during the January school holidays - read more.
"I am greatly appreciative towards the ATYP team and the Q Theatre - without them, the amazing production of Lights in the Park would not have been as stunning as it was," Denica said.
"With this being my second ATYP opportunity, this phenomenal experience wouldn't have been made possible without the generosity of CAPTIVATE, exposing talented students to amazing companies, with remarkable support and opportunities to strive as actors."
---
Find out more about the Australian Theatre for Young People.